Free report – Does change hit you hard?
Change is one of the few things in life that are inevitable—and when we're ill-equipped to handle it, we experience overwhelming stress, anxiety, and resistance…all things that wreak havoc on our lives!
But it doesn't have to be that way. Download your FREE report: Thriving in Change and learn the secret tricks and strategies behind shifting how you perceive change and how you can use change to experience a more fulfilling life!
Take back the reins of your life! Download your free report here.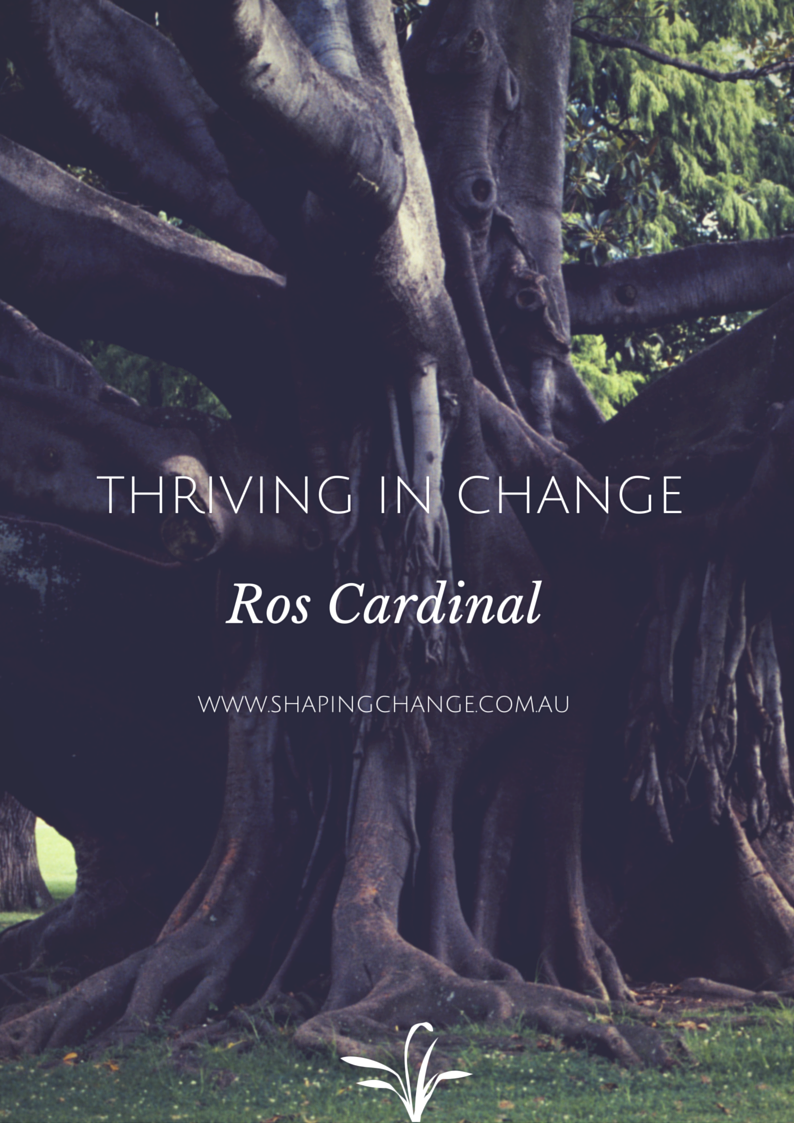 Free Audio Training Series
When You Can Thrive In Change, You Possess a Very Special Ability that Can Bring You Huge Success in Any Area of Your Life
Change is one of the few things in life that are inevitable. But despite this fact, very few people are prepared when those inevitable changes take place. If, however, you had the ability to prepare for changes before they happen so you can better handle changes when they do happen, you would have a very enviable and marketable skill. Perhaps more importantly, you would be able to better manage the twists and seemingly unexpected turns of your own life.
That's why I'm offering a FREE series of 6 audio trainings on the topic of Thriving in the Midst of Change.
We have recently made our audio short course, Thriving in the Midst of Change, available to people who subscribe to the Learn to Thrive in Change mailing list. This six part audio series provides a broad overview of the phases of change; how different personality types cope with change; navigating the transitional phase of change; learning to become more resilient to change; tips to thrive in change; and how to help others cope with change. If you would like access to this free course, and to receive other resources and tips as they become available, sign up now!
Click here to find out more, or sign up now:
Premium Resources – Now available!
Leaders, Are you passionate about:
Making a difference?
Building successful businesses?
And leveraging the talents and skills of your people?
Then the Shaping Change Inner Circle is for you. Join our exclusive membership network for leaders.
Find out more here.
Already a member? Click here to login.
Thriving in Change Self-Study Programs
Does change hit you hard? If you're like most people, you probably answered "yes". But why do you think that is?
It could be because change, when taken at face value, represents an upset in the status quo – a disruption of your comfort zone.
And when the change is something big, it can send your stress levels sky-high and rob you of your peace of mind.
We know that change is inevitable and there's really no way around it. But people still fret over it, worrying about what's lurking around the corner and wondering when the proverbial "other shoe" is going to drop.
And yet, this is no way to go through life!
In fact, recent research suggests that stress alone is behind 60% of all human illness and disease, with 3 out 4 doctor visits being due to stress-related ailments. Not only does stress cause you to lose sleep at night (which can drastically impact your productivity and mental awareness), but it can also shrink your brain as it reduces grey matter in regions tied to your emotional and physiological functions!
Simply put—change, and the stress that it very often brings, is taking a toll on people every day.
So what if I told you that there's a way to ease the resistance, stress, uncertainty, worry and feelings of dread that come with change?
My name is Ros Cardinal and I am the founder of Shaping Change. I am an accredited Change Manager and an Organisational Behaviours expert.
Change, and how people behave in change, is one of the topics that I have studied for many years. I, like all of you, have experienced a lot of change in my life.
At the age of 42 I was diagnosed with breast cancer. The words "you have cancer" are quite probably amongst the scariest words you will hear. However, I was able to draw on my knowledge of change, of emotional intelligence and of human behaviour to not only get through the treatment, but to move forward – to leave my corporate job and start a consulting business. My aim wasn't to just survive cancer – it was to thrive. To use the experience as a springboard for growth.
This led me to develop a suite of programs to help people do what I did – to thrive in change, rather than just surviving it.
Introducing two new programs:
Thriving in Change
Transitions and Transformations