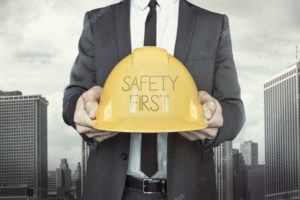 A workplace risk assessment is a safety audit which can help you to identify and remove hazards from your workplace before they cause serious injury.
Workplace risk assessments can be done in three simple steps: identify the hazards, assess their risks, and then control them by either removing or reducing them.
Conducting regular risk assessments can help to ensure your workplace is free from hazards which may injure workers and affect your business.
Hazards in the Workplace
Workplace hazards which are left unmanaged can become costly for employers. Workers compensation insurance, while compulsory in Australia, may not be paid without conditions if the circumstances of the injury were avoidable.
Conducting regular assessments can help to avoid these issues and improve health and safety, ensuring that if an injury does occur, employers have a proven record of assessing and acting to reduce potential risks.
Managing risks is part of an employer's duty of care which requires that they provide and maintain a safe working environment for their employees. Workplace risk assessments can help employers to meet their obligations by managing hazards and reducing the risk of injury in the workplace.
Conducting a workplace risk assessment is a simple process comprising the following steps.
Identify Hazards
A hazard in the workplace refers to anything that could cause harm to a person. Hazards can cause physical as well as psychological harm. Examples of common workplace hazards include:
Loud noises
Electricity
Ergonomics
Heights
Workplace bullying
Forklifts
The types of hazards and the risks associated with them will vary depending on each workplace.
Employees are often best equipped to spot potential hazards and should consult with employers to identify and report a hazard before it harms others. Suggestions from employees can be a valuable insight for employers into unsafe working conditions.
Employers and safety managers should also conduct their own inspections of the workplace to identify and list potential hazards. These inspections should be conducted regularly as hazards may change from day to day.
Assess the Risk
A hazard is normally assessed according to two factors: it's likelihood and severity. If a hazard has the potential to be very harmful and has a high chance of occurring, then it would be assessed as a high risk.
Different degrees of likelihood and severity could reduce the assessed risk, for example if a harmful event is highly unlikely to occur then it may be considered as having a lower risk.
When assessing risk, it's important to consider whether a harmful event could create a chain reaction and cause more damage than it would by itself. This would increase its risk rating.
Assessing potential hazards can help you to develop an appropriate strategy to reduce their risk. In most cases this will mean noting the risk and submitting it to relevant parties such as employers or safety representatives.
Control Risks
Controlling risks is the third step of a workplace risk assessment.
After assessment, workplace hazards should be dealt with in order of priority. If removal of the hazard isn't possible, other management options may be available.
When possible, in descending order of priority:
Remove the hazard completely
Substitute the hazard with something safer
Isolate the hazard from people
Reduce risks with engineered controls
Reduce exposure to the hazard with administrative action
Use personal protective equipment (PPE)
When controlling risks that could result in serious harm or death, priority should be given to reducing the level of harm that could occur.
Developing and training employees in safe work procedures can be an effective way to reduce workplace risks. These procedures should be regularly reviewed to assess their effectiveness and ensure they remain relevant.
Finding the Right Balance
While workplace hazards should always be accounted for and their risks reduced, in some cases they can be difficult to remove completely. Each workplace will have to find their own balance of harm minimisation strategies which remain effective while not heavily disrupting operations.
Regularly conducting workplace risk assessments and reviewing safety procedures can help employers reduce the likelihood of injury and contribute to an efficient and safe workplace.
—
This article was written by Daniel Defendi, who recommends Perth City Legal for assistance with WorkCover. You can catch Daniel on LinkedIn to discuss this piece.