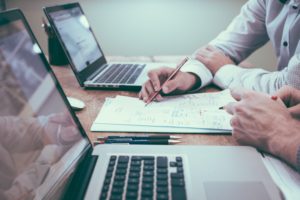 Not long ago, companies used simple spreadsheets to collect, store, and organise all the information for each candidate applying for an open position with the company. It's not surprising that the hiring process was often seen as a tiresome process. After all, when you have new applications coming in every day, have sensitive information to protect, and have numerous interviews to schedule, it can be challenging to manage everything effectively.
But this problem was somewhat solved when the Applicant Tracking System was first introduced in the '90s. It primarily aimed at automating the managing of candidate applications online.
However, with time, the role of a tracking system has evolved. ATS software is now trying to make the whole process of recruitment easier than ever. In today's article, we're taking a deeper look into applicant tracking systems and exploring how they can ease recruitment for your company.
What Is An Applicant Tracking System?
An applicant tracking system, popularly called an ATS, is a software application used by recruiters and hiring managers to manage the end-to-end process of candidate applications. The software can help recruiters find the right candidates at the right time.
With the rapid growth of technology, modern applicant tracking systems can help manage every aspect of hiring and recruiting. In fact, you might have noticed how the number of recruitment agencies and staffing companies has increased exponentially. Such agencies rely heavily on tracking systems to administer the hiring process. It helps screen candidates, schedule interviews, test applicants, check references, manage the hiring process, and also take care of the complete onboarding procedure.
How An Applicant Tracking System Works
An ATS, which is also known as a talent management system, helps simplify and streamline the hiring procedure. To understand how an ATS works, we need to first know the general steps of the recruitment process:
–Basic Recruitment Process
The first step includes screening, whereby preliminary research is done, including pre-screening questions.
Then, the recruiter sends an application to the hiring manager for further review.
Once the application is approved, the testing and assessing rounds begin.
Many companies prefer to administer assignments to test a candidate's skills. Candidates who pass these assignments then advance to an interview.
The last step in the process is hiring and onboarding, where the actual formalities for joining the company begins.
–How An ATS Fits In
An ATS acts as a central database where all the information is stored when applicants apply for jobs online. It might include contact information, resumes, cover letters, and a list of candidates' experiences and skills. Within the system, the data gets transferred from one component to another as candidates move through the hiring process.
Modern applicant tracking systems come equipped with artificial intelligence (AI) that helps recruiters in various ways in the talent acquisition process. From resume screening based on your job description to striking a conversation with potential clients, an ATS software can be quite useful.
Furthermore, the system allows recruiters to conduct tests and assess a candidate's skills online. It enables hiring managers to decide whether or not the candidate is suitable for the open position. And once a candidate is hired, HR can integrate the system with payroll software and use the same information to put them on the company's payroll scale without any extra effort.
Thus, an ATS can streamline the entire recruitment process for employers. In short, using an ATS can save you both time and money.
Other Benefits of An ATS
One of the significant changes in how we search for or post jobs online has been the launch of Google for Jobs.
Google for Jobs enables companies to post their job opening on Google search engines. However, for your position to appear on search pages, you will need to use the right keywords and have a well-defined job description.
Fortunately, an ATS has built-in capabilities to help your postings get discovered by Google.
Additionally, an ATS can help your company expand its reach on social media. In this day and age, candidates are actively searching for jobs on social platforms like LinkedIn, Facebook, Twitter, and more.
An ATS easily integrates with your social media profiles to amplify your company's digital footprint and help attract the right candidates. It can also integrate with other career pages online!
As the job market continues to grow, companies the world over will need to find more effective ways of managing their recruitment processes. By using an ATS, not only will your company save time and money, but you'll also implement a streamlined hiring approach that will make for an easier and more enjoyable experience both for candidates and for hiring managers/human resources.
—
Shrushti K. Chaware works as a Digital Marketing Executive at Software Suggest, a leading online platform for finding business solutions. She's currently working on MLM Software and Salon Software, and enjoys writing in her free time.