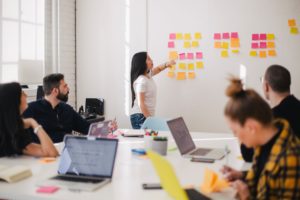 Recruitment and talent acquisition has not only become essential in today's job market, but it has also become a planned and properly channelized activity.
With the advent of technology, the recruitment and talent acquisition process has also expanded and is now able to reach more and more job seekers than ever.
Still, it can be a struggle to find the perfect candidates for the open positions available in your company.
Today, we're sharing some of the recruitment trends that persisted in 2019. If you're a hiring manager, here are some of the ways that others are leveraging technology to find fresh, qualified talent:
Top candidates are recruited based on automated analysis
There are several tools available in the market that use AI and machine-level learning to screen the correct candidates for job opportunities, such as recruiting software that analyzes resumes, as well as tools that give feedback on interviews and also measures skillsets to help to determine whether a candidate is a good fit for a job or not.
Such tools have proven to be a great way to help companies automate many components of the hiring process, especially when it comes to sifting through large volumes of applications. Applicant tracking software easily narrows down a company's choices to the best set of candidates, making a hiring manager's job far easier.
Social media is an effective recruiting channel
Most people, especially job seekers, are now available on social media. Thankfully, companies can use social media as a powerful tool to get in touch with candidates. Recruiters in particular are increasingly making use of this opportunity and reaching out to potential candidates when new positions become available within a company that may fit that candidate's skill set.
Additionally, social media platforms like LinkedIn can be linked with the company website or any existing applicant tracking software. Other social media platforms like Facebook shouldn't be neglected either. There are groups and pages on Facebook, for instance, where individuals post for jobs all the time, which are a great place to look for fresh talent.
Video interviews are an increasing norm for recruitment
It's becoming more and more common, particularly where remote positions are concerned, for a video interview to be a part of the hiring process. In fact, companies like Spark Hire provide companies with the tools they need to start using video interviews in their recruitment.
According to Spark Hire, "in general, employers find that video interviews help them learn more about candidates in less time, screen candidates faster than ever before and more efficiently, eliminate scheduling challenges, and only invest time and effort into the best candidates."
And added bonus is that video interviews are more robust than the traditional phone interview. They allow hiring managers to pick up on visual cues that can impact a hiring decision, such as facial expressions and body language. A candidate's personality and professionalism also come through more clearly in a video interview.
A flexible working policy is a top priority
Applicants are looking for jobs that are not only challenging but that also allow flexible methods of working. In fact, the ability to work from home at least partially is a top priority for candidates, especially among millennials.
Hiring managers are beginning to accommodate this preference as more and more companies create remote positions that allow employees to work from the comfort of a home office. Technology such as Google Hangouts, Slack, Zoom, and more allow distributed teams to stay connected and in communication no matter the distance between them.
But even if full telecommuting isn't a possibility for your company, you might want to consider offering your employees the option of working from home at least 1-2 days a week. Flexible work can help your employees achieve a better work-life balance and help with mental health, which can translate to a happier, healthier, and more productive workplace.
—
Sharad Bhardwaj is a content analyst at SoftwareSuggest. He has experience in content marketing and has expertise in Real Estate software & Whatsapp Marketing Software. In his leisure time, he likes to rejuvenate through playing cricket and listening to music.