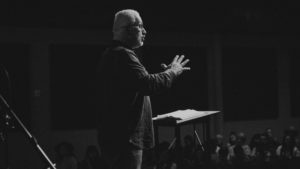 One of the best ways you can invest in your leadership development is through continual learning. Fortunately, in the age of the internet, there are scores of opportunities online to do just this—often for free.
Podcasts, for instance, have become increasingly popular in recent years, allowing leaders to learn top strategies from some of the most celebrated thought leaders around the world.
One of the biggest stages in learning and development comes from TED Talks. From their website: "TED is a nonprofit devoted to spreading ideas, usually in the form of short, powerful talks (18 minutes or less). We believe passionately in the power of ideas to change attitudes, lives and, ultimately, the world. On TED.com, we're building a clearinghouse of free knowledge from the world's most inspired thinkers — and a community of curious souls to engage with ideas and each other, both online and at TED and TEDx events around the world, all year long."
Today, we're rounding up the top 9 TED Talks from 2019 that are centered on the subject of business and leadership.
These powerful, insightful messages are filled with incredible lessons that we can all apply to our personal and professional lives as we seek to continually better ourselves. Click on the title of each talk to be taken directly to its video. 
Current View Count: Nearly 2.5 million
When venture investor Natalie Fratto is determining which start-up founder to support, she doesn't just look for intelligence or charisma; she looks for adaptability.
In this insightful talk, Fratto shares three ways to measure your "adaptability quotient" — and shows why your ability to respond to change really matters.
Current View Count: Over 2.2 million
The more we rely on technology to make us efficient, the fewer skills we have to confront the unexpected, says writer and entrepreneur Margaret Heffernan. She shares why we need less tech and more messy human skills — imagination, humility, bravery — to solve problems in business, government and life in an unpredictable age.
"We are brave enough to invent things we've never seen before," she says. "We can make any future we choose."
Current View Count: Over 2.1 million
Profit, money, shareholders: these are the priorities of most companies today. But at what cost?
In an appeal to corporate leaders worldwide, Chobani founder Hamdi Ulukaya calls for an end to the business playbook of the past — and shares his vision for a new, "anti-CEO playbook" that prioritizes people over profits. "This is the difference between profit and true wealth," he says.
Current View Count: Over 2.1 million
Companies are counting on their future leaders to manage with more speed, flexibility and trust than ever before. But how can middle managers climb the corporate ladder while also challenging the way things have always been done?
Leadership expert Elizabeth Lyle offers a new approach to breaking the rules while you're on your way up, sharing creative ways organizations can give middle managers the space and coaching they need to start leading differently.
Current View Count: Over 1.9 million
The Silent Generation, baby boomers, Generation X, millennials, Gen Z — we're all in the workforce together. How are our assumptions about each other holding us back from working and communicating better?
Social psychologist Leah Georges shows how we're more similar than different and offers helpful tactics for navigating the multigenerational workplace.
Current View Count: Over 1.9 million
What does it take to build the fast, flexible, creative teams needed to challenge entrenched work culture? For transformation expert Martin Danoesastro, it all starts with one question: "What are you willing to give up?"
He shares lessons learned from companies on both sides of the innovation wave on how to structure your organization so that people at all levels are empowered to make decisions fast and respond to change.
Current View Count: Over 1.8 million
Roy Bahat was worried. His company invests in new technology like AI to make businesses more efficient — but, he wondered, what was AI doing to the people whose jobs might change, go away or become less fulfilling?
The question sent him on a two-year research odyssey to discover what motivates people, and why we work. In this conversation with curator Bryn Freedman, he shares what he learned, including some surprising insights that will shape the conversation about the future of our jobs.
Current View Count: Over 1.8 million
What should modern leadership look like? Entrepreneur and former Icelandic presidential candidate Halla Tómasdóttir thinks global leaders need to change their ways — or risk becoming irrelevant.
In a conversation with curator Bryn Freedman, she shows how anybody can step up and make a difference, even if you don't yet have power. "There's a leader inside every single one of us," she says, "and our most important work in life is to release that leader."
Current View Count: Over 1.2 million
Most companies operate on a set of policies: mandated vacation days, travel guidelines, standard work hours, annual goals. But what happens when a company looks less to control and more to trust?
Patty McCord, the iconic former chief talent officer at Netflix, shares the key insights that led her to toss the handbook out the window.