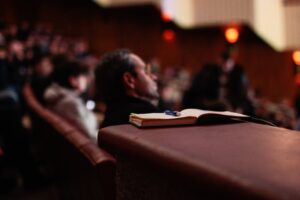 If there's one thing that holds true about highly effective and productive leaders, it's that they never stop learning. They continually seek to better themselves, grow their skillset, and acquire more knowledge.
The internet makes it easier than ever to engage in continual education and development. Podcasts, blogs, and online classes are more popular than ever.
One of the biggest stages in learning and development, however comes from TED Talks. From their website: "TED is a nonprofit devoted to spreading ideas, usually in the form of short, powerful talks (18 minutes or less). We believe passionately in the power of ideas to change attitudes, lives and, ultimately, the world. On TED.com, we're building a clearinghouse of free knowledge from the world's most inspired thinkers — and a community of curious souls to engage with ideas and each other, both online and at TED and TEDx events around the world, all year long."
Today, we're rounding up the top 6 TED Talks from 2020 that are centered on the subject of business and leadership.
These powerful, insightful messages are filled with incredible lessons that we can all apply to our personal and professional lives as we seek to continually better ourselves. Click on the title of each talk to be taken directly to its video.
Current View Count: 2.5 million
What's your passion? Social entrepreneur Noeline Kirabo reflects on her work helping out-of-school young people in Uganda turn their passions into profitable businesses — and shares the two questions you can ask yourself to begin doing the same.
Current View Count: 2.1 million
By some estimates, work-related stress drains the US economy of nearly 300 billion dollars a year — and it can hurt your productivity and personal health too, says wellness advocate Rob Cooke. He shares some strategies to help put your mental, physical and emotional well-being back at the forefront.
Current View Count: 2.1 million
Equity expert Sara Sanford offers a certified playbook that helps companies go beyond good intentions, using a data-driven standard to actively counter unconscious bias and foster gender equity — by changing how workplaces operate, not just how people think.
Current View Count: 1.9 million
Business management in China is changing, says consultant Fang Ruan. Learn how Chinese entrepreneurs — long guided by Confucianism's emphasis on authority and regulation — are now looking to Taoist philosophy for a new, dynamic leadership style that believes things spontaneously transform and naturally achieve perfection when they're supported, not controlled.
Current View Count: 1.8 million
No matter your industry, you've experienced drama at work. In this funny and all-too-relatable talk, community leader Anastasia Penright outlines five steps you can follow to better coexist with your coworkers and focus on what's really important.
Current View Count: 1.2 million
What does it take to cultivate a culture of innovation and reinvention at work? Tracing his journey from math teacher to honesty-seeking executive, Netflix co-CEO Reed Hastings describes three key elements of a successful work culture, sharing how to design a company around inspiration, creativity and candor.
Looking for further online opportunities for professional development and ways to sharpen your leadership skills? Take a look at the Shaping Change Inner Circle — a unique online mastermind for professionals who are ready to excel in their positions of leadership and create one success after another!