Want your company to attract the best and brightest team members?
In a recent study, Software Advice, an online reviewer of HR technology, combed through employee-written reviews of companies (as hosted on the website Glassdoor, which helps job seekers determine the best companies to work for) and found that out of the over 147,000 companies listed in the database, only 37 had achieved a 5-star rating (the highest rating possible).
What exactly warranted the 5-star ratings? And what were the biggest grievances among those who authored reviews for the top companies?
The top-rated companies are small and new.
None of these companies employed more than 500 people, and nearly half of them were less than 5 years old. Because recent research has shown that Generation Y/Millenials prefer to work for smaller businesses (47% of them, in fact), it may behoove companies seeking to attract this demographic to consider efforts toward creating a more intimate office culture.
The top-rated companies foster camaraderie.
As displayed in the bar graph below, the most common positive attribute of the five-star companies, as rated by their employees, was camaraderie. As it were, this attribute rated well beyond benefits and compensation. This tells us something important. While job seekers certainly are interested in perks such as 401K's, insurance coverage, vacation time, and in some cases: free food and social events, what the majority of people are really looking for these days in a workplace is an opportunity to be a part of a team, and to develop professionally alongside like-minded colleagues who will support them. A culture where employees can form close bonds leads to team members who are happier, healthier, and more dedicated to their work.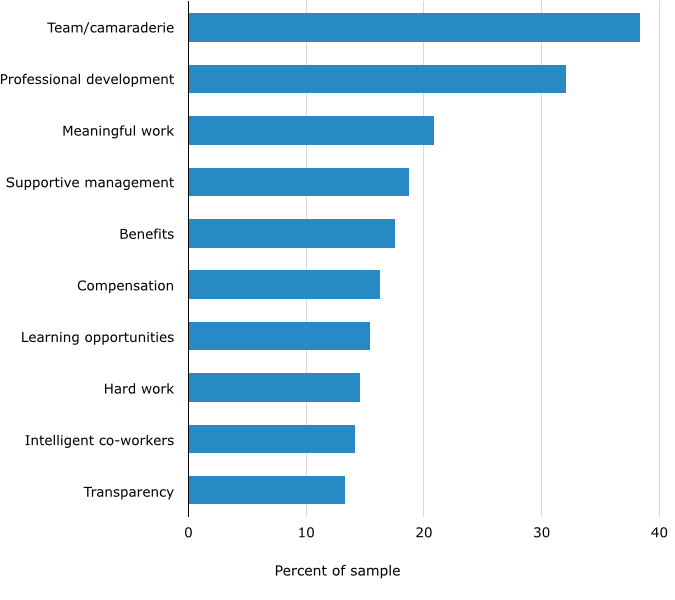 The top-rated companies experience growing pains.
The results below indicate that most reviewers had nothing bad to say about their companies. The few that did mostly reported growing pains, which likely has resulted in long hours and high pressure (as those are the next 2 con's that most surfaced). In other words, it would seem these particular companies have grown to the point of needing more team members but don't as of yet have enough hands on deck, which means the extra work is falling upon current employees.
This is a great teaching point for companies of any size: what is the workload that your employees currently handle? Do team members feel over-worked; overwhelmed? Is the rush to finish off giant tasks and projects causing unnecessary stress? If so, it may be time to develop strategies that will help equally distribute workloads among existing employees.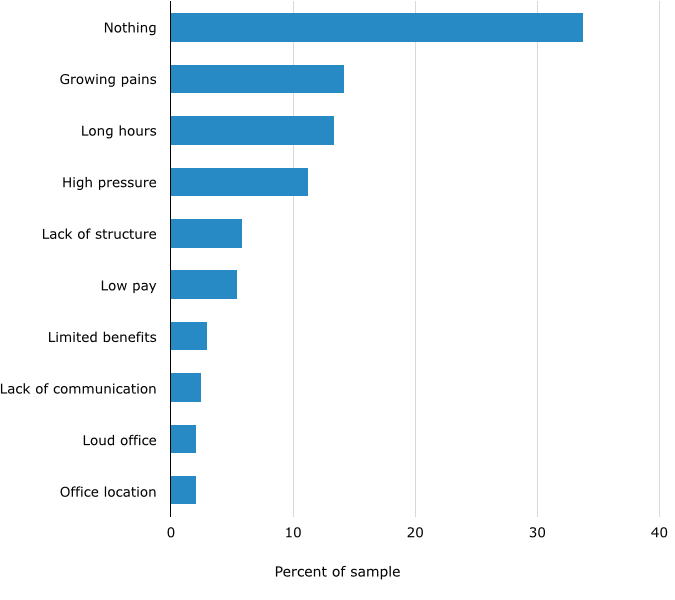 The top-rated companies should exercise caution in hiring.
When asked to provide advice to the management at their companies, most reviewers simply advised that the company remain on its current path. However, the next two popular answers included maintaining the current culture and being careful and selective when it came to hiring. The two go hand in hand naturally, as the people you hire will ultimately affect the nature of your company culture.
A word to the wise: being highly selective in the hiring process is essential to maintaining your company's culture, especially when culture is becoming increasingly popular among job seekers. It's imperative that any new hires not only play well with other team members but also that they have the same values as the company.
In conclusion, it's clear that there's much to be learned from examining the reviews of companies that hold 5-star ratings among their employees. For companies seeking to achieve the same success, focusing on a positive and intimate workplace culture, developing camaraderie among team members, ensuring work is evenly distributed among employees, and carefully selecting each new hire so that he or she is an appropriate fit for the overall team are all essential toward becoming a highly-sought after company. Start implementing these strategies in your own workplace and you may just find more dedicated workers flocking to your doors.
About the study…
In October 2014, Software Advice collected data and reviews for all employers on Glassdoor with a five-star employee rating. A total of 637 reviews were collected, from which a random sample of 240 reviews were selected in order to maintain a 95 percent confidence level and a confidence interval of five. You can read the full research report here.