We've been spending a lot of time talking about personality on the blog—and with good reason! We each have a personality, but understanding who we are on a deeper level, what makes us tick, and why we do the things we do can often be a lifelong quest. Unfortunately, when dealing with a vast array of personalities in the workplace, not understanding our colleagues' mindsets and behavioral patterns in the here and now can often lead to misunderstandings and festering conflicts.
The good news is you don't have to spend the rest of your life trying to understand the ins and outs of personality. Some of the best knowledge available is contained between two covers, which is why we're rounding up 5 of the best books about personality on the market today. These titles are currently in Amazon's top 100 bestsellers list and are sure to give you a crash course on understanding yourself and others much better.
Click on the titles to be taken to that book's Amazon page.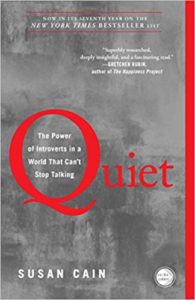 Quiet by Susan Cain
At least one-third of the people we know are introverts. They are the ones who prefer listening to speaking; who innovate and create but dislike self-promotion; who favor working on their own over working in teams. It is to introverts—Rosa Parks, Chopin, Dr. Seuss, Steve Wozniak—that we owe many of the great contributions to society.
In Quiet, Susan Cain argues that we dramatically undervalue introverts and shows how much we lose in doing so. She also introduces us to successful introverts—from a witty, high-octane public speaker who recharges in solitude after his talks, to a record-breaking salesman who quietly taps into the power of questions. Passionately argued, superbly researched, and filled with indelible stories of real people, Quiet has the power to permanently change how we see introverts and, equally important, how they see themselves.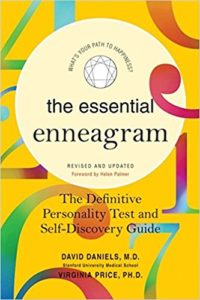 Essential Enneagram by David Daniels and Virginia Price
A centuries-old psychological system with roots in sacred tradition, the Enneagram can be an invaluable guide in your journey toward self-understanding and self-development. In this book, Stanford University Medical School clinical professor of psychiatry David Daniels and counseling psychologist Virginia Price offer the only scientifically developed Enneagram test based upon extensive research combined with a self-discovery and personal-development guide.
The most fundamental guide to the Enneagram ever offered, this book features effective self-tests to determine simply and accurately what your personality type is. Daniels and Price provide step-by-step instructions for taking inventory of how you think, what you feel, and what you experience. They then guide you in your discovery of what your type means for your personal well-being and your relationships with others, and they show you how to maximize your inherent strengths.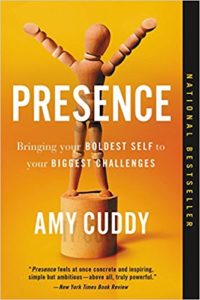 Presence by Amy Cuddy
Have you ever left a nerve-racking challenge and immediately wished for a do over? Maybe after a job interview, a performance, or a difficult conversation? The very moments that require us to be genuine and commanding can instead cause us to feel phony and powerless. Too often we approach our lives' biggest hurdles with dread, execute them with anxiety, and leave them with regret.
By accessing our personal power, we can achieve "presence," the state in which we stop worrying about the impression we're making on others and instead adjust the impression we've been making on ourselves. As Harvard professor Amy Cuddy's revolutionary book reveals, we don't need to embark on a grand spiritual quest or complete an inner transformation to harness the power of presence. Instead, we need to nudge ourselves, moment by moment, by tweaking our body language, behavior, and mind-set in our day-to-day lives.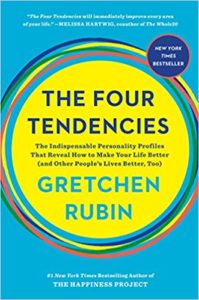 The Four Tendencies by Gretchen Rubin
During her multibook investigation into understanding human nature, Gretchen Rubin realized that by asking the seemingly dry question "How do I respond to expectations?" we gain explosive self-knowledge. She discovered that based on their answer, people fit into Four Tendencies: Upholders, Questioners, Obligers, and Rebels. Our Tendency shapes every aspect of our behavior, so using this framework allows us to make better decisions, meet deadlines, suffer less stress, and engage more effectively.
More than 600,000 people have taken her online quiz, and managers, doctors, teachers, spouses, and parents already use the framework to help people make significant, lasting change. The Four Tendencies hold practical answers if you've ever thought: People can rely on me, but I can't rely on myself. How can I help someone to follow good advice? People say I ask too many questions. How do I work with someone who refuses to do what I ask—or who keeps telling me what to do? With sharp insight, compelling research, and hilarious examples, The Four Tendencies will help you get happier, healthier, more productive, and more creative. It's far easier to succeed when you know what works for you.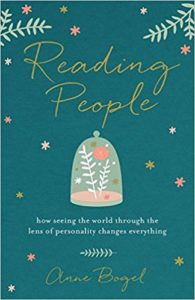 Reading People by Anne Bogel
If the viral Buzzfeed-style personality quizzes are any indication, we are collectively obsessed with the idea of defining and knowing ourselves and our unique place in the world. But what we're finding is this: knowing which Harry Potter character you are is easy, but actually knowing yourself isn't as simple as just checking a few boxes on an online quiz.
For readers who long to dig deeper into what makes them uniquely them (and why that matters), popular blogger Anne Bogel has done the hard part–collecting, exploring, and explaining the most popular personality frameworks, such as Myers-Briggs, StrengthsFinder, Enneagram, and others. She explains to readers the life-changing insights that can be gained from each and shares specific, practical real-life applications across all facets of life, including love and marriage, productivity, parenting, the workplace, and spiritual life. In her friendly, relatable style, Bogel shares engaging personal stories that show firsthand how understanding personality can revolutionize the way we live, love, work, and pray.