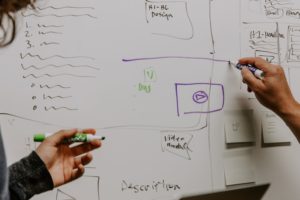 We live in a world of emerging technologies where a variety of technological trends can impact workplaces.
According to a report published by Gallup's State of the American Workforce, teams that are engaged achieve 21% more profitability, but only 51% of employees feel engaged in their assigned work.
Keeping in mind these findings, it is essential to follow the below technological trends to help improve your workplace's productivity.
1.    Flexibility with mobile workers
Technology has enabled employees to perform better under consistently changing environments.  Today's teams are more able to perform effectively and efficiently both in-house and outside of the office setting.
With the advancements in technological trends, mobile employees are able to exchange information and tackle issues by communicating with other members even if they are miles away. This is possible with the power of internet connectivity and innovative cloud computing, as well as through messaging apps like Slack, which many companies are now using.
This flexibility is changing the conventional 9 to 5 work dynamics and helping companies progress toward higher productivity. In fact, a recent study recently found that remote workers are 4% more productive than workers at a traditional office.
2.    Time tracking & management
Management is now able to leverage organizational tools and online productivity to keep track of progress, time, and the management of ongoing projects.
These technological tools, such as Asana, can check if a project is behind schedule or ahead of time so that managers can correct the speed of the tasks as neccessary, ensuring their teams are making steady progress toward their goals.
3.    Focused communication
Considering the use of the internet, one of the downsides of technology integration is that people may easily get distracted by non-productive activities such as social media. However, technology itself can actually help with this.
App likes these enable you to block social media when employees have to focus on working tasks in order to meet important deadlines, thus giving your workplace a much needed boost.
4.    Chatbots for customer service
Getting customer service right is an essential component for many businesses. Most potential prospects have negative experiences even with the best of companies when dealing with never-ending website menus or frustrating waiting times on calls.
Chatbots have solved this issue  by delivering an unmatched user experience. The current breed of Chatbots relieves companies of the need to frequently answer countless queries, thereby freeing up employees to be more productive with other tasks. Chatbots can accomplish many things: provide instant assistance and exceptional tech support, make reservations, and close asuccessful sales call as well.
5.    Accessible expert help
Nowadays, companies are no longer dependent on internal sources for marketing, copywriting, IT, graphic design, and more. They know how to make good use of outsourcing to handle tasks that in-house employees aren't equipped or trained to handle.
Thanks to websites like Upwork and Airtasker, it's easier than ever to hire freelance and/or contract work for one-off projects or ongoing work. This is one of the newest technological trends to emerge, and it's one that businesses are taking advantage of. By outsourcing to specialists, your employees are able to devote their time and energy to other tasks that can help drive higher productivity and increase your bottom line.
—
Stella Lincoln is a qualified business development consultant with the professional experience of more than a decade. She has previously worked as a Customer Service Representative at Academist Help. Currently, she is working as a Business Executive at Crowd Writer UK.