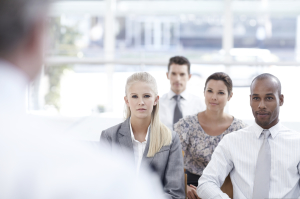 Our guest author, James Goodricke, continues his thoughts on Generation Y in the workplace in Part 2. Read Part 1 here.
While generation gaps are nothing new, with Generation Y it isn't so much a gap as a discontinuity. Growing up with the internet has given them a very different way of viewing the world, while witnessing the struggles of their parent's generation in the workplace has given them a very different set of expectations for their career.
This isn't to say that Generation Y doesn't care at all about money. A recent case study conducted by Software Advice found that salary was still the most important things for Generation Y's in a new job, but only by a narrow margin. Workplace culture, fulfillment and personal development were ranked almost as high.
"Interestingly, several of those applicants who ranked salary and benefits of lesser importance noted they had previously worked in a high-paying job — and had discovered that money wasn't everything" says Managing Editor Holly Regan. "It seems that compensation may be of diminishing importance as Generation Y workers garner more professional experience."
As such, while a high salary is a good incentive to attract Generation Y employees, it won't be enough to retain them in the long run, as they are looking for a number of things in their career. So how do you attract Generation Y employees and encourage them to stay with you?
One thing that most Generation Y employees value highly is a career that doesn't encroach on their personal life. This isn't to say that they don't want to work hard, but rather they just want the option to work flexible hours, work from home or work weekends to catch up on lost time. Realistically, there will be some things that they just need to be in the office to do, but if you try to be accommodating of their changing lifestyle, you will find them more motivated and productive.
Another important aspect is the management system. Generation Y employees generally want to contribute to the workplace and have input in the decision making process, and as such they find top-down hierarchical management stifling. Managers should try to involve Generation Y in the work that they do, giving them control to manage tasks themselves, rather than having them delegated to them.
Training or mentoring can be a good way to facilitate this if they lack the skills or confidence to handle things on their own, and will also give them a greater sense of fulfillment and development through working in your organization, which will encourage them to stay with you longer.
Managers should also allow them to make suggestions or improvements and include them in the decision making process where possible – not only will it increase their motivation, but it will likely produce new ideas that weren't otherwise considered. As well as this, strive to recognize their achievements, either through giving gifts or simply thanking them for their hard work. This sense of appreciation will help to keep them motivated and striving to do better in the future.
This may seem like a lot of changes to make in order to keep your newer employees happy, but in reality these are things that all your employees want to some degree, Generation Y employees are just more assertive in getting it. As such, making such changes in the workplace will not only help to attract and retain quality Generation Y employees, but make all your employees more productive, engaged and satisfied.
Image credit: istock