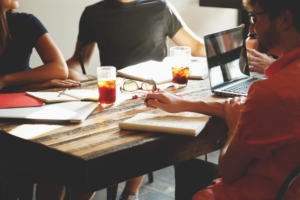 As a business owner, you may be constantly on the lookout for opportunities to grow and invest in your business, but don't forget to invest in your team as well. After all, the people inside the company are your company's future, so it's in your best interest. Not only does it help to grow your business, but it will create an engaged workforce and reduce turnover rates.
Investing in your team can be done in many different ways, from cash incentives to personal development opportunities. The overall purpose, however, remains the same: show your employees you care. If that's clear, your team will be more incentivised to take an interest at work. Here are six ways you can invest in your team.
1. Professional AND personal development
Someone who's struggling in their personal life is almost never efficient at work. Similarly, those who are struggling or stagnating at work often begin to experience negative personal development. For that reason, it's important that you invest in both professional and personal development.
It's not uncommon for business owners to neglect professional development in fear of making their employees more valuable in the marketplace only for them to leave the company. However, if employees feel they aren't developing professionally, they're more likely to look for work elsewhere.
Look for ways to invest in employees' professional development by creating goals with them and ensuring managers follow up on the pursuit of these goals. Setting aside a budget for personal development tools such as courses, books, and events will help your employees grow personally, and in turn help them professionally. In the long run, this will benefit your business.
2. Team building
Team building has long been a staple in the workforce, and for good reason. Gallup found that those with close friendships at work experience a 50 per cent increase in job satisfaction and those with a best friend are 7 times more engaged.
Things like team sports, scavenger hunts, and escape rooms are great ways to foster relationships and build camaraderie. These games help to build bonds and get people to work together to reach a common goal, exactly like in business.
3. Create a healthier work environment
Creating a healthier office environment is a great way to invest in your team, while also reducing absenteeism costs. Health and wellness offerings are some of the first things potential employees look for when choosing an employer.
This can have major impacts on your workplace and is relatively easy to implement. Encourage regular exercise and walking meetings, have fun fitness challenges within the office or introduce healthy snacks in the workplace. Healthy employees are more likely to have higher levels of productivity.
4. Allow your employees to change roles
Often you will hire young, promising staff only for them to realise that the line of work isn't for them. Deciding this, they take a position in a new area and leave your company for something that is closer to what they want to be doing.
By taking an interest in what your employees actually want to be doing, you can allow them to move laterally within your company. Allow them to take the required courses and keep that promising, young talent within your ranks.
5. Offer perks and benefits that they care about
Perks and benefits come in a variety of forms. These days, there's almost no end to what companies offer, but there's only one way to ensure that what you offer will actually be effective. Think about, or even ask, what would be a valuable perk to those working at your company.
If staff are busy and often stay back late, think of ways to make their personal lives easier. One perk that's almost fail-safe is free food.
6. Invest in your team personally through relationship building
While investing in employees' personal development is important, it's equally important to get to know your employees. Build personal relationships with them. Take them to relevant meetings and events, bring them to lunch, and have after-hours drinks. The aim is to build a trusting environment with strong relationships. Learn about them and make sure they know what the vision of your company is. With a solid understanding, you can be sure your team has the confidence and desire to help build your business.
Investing in your team can be one of the most important investments you make. At times it may seem expensive, both financially and time-wise, but if you can show your employees that you care and believe in them, they're sure to feel the same way about your company.
—
Laura Martins is a content manager for RateCity, where you can make smarter financial decisions and compare thousands of financial options. In her time away from RateCity, Laura loves reading about tech and spending time with her dogs.