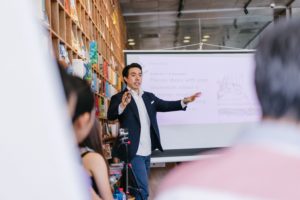 With the majority of the labor force relegated to home offices, more people than ever are taking advantage of online learning in order to invest in their personal and professional development as well as acquire new skills for future advancement in their careers.
After all, continuing education is an important aspect of leadership development. The most effective and successful leaders are ones who continue acquiring knowledge and diversifying the skills in their toolbox. In light of that, it's no surprise that podcasts and audiobooks have become more popular than ever.
Another hub of online learning that's becoming more and more popular every day is the website TED Talks. From their about page: "TED is a nonprofit devoted to spreading ideas, usually in the form of short, powerful talks (18 minutes or less). We believe passionately in the power of ideas to change attitudes, lives and, ultimately, the world. On TED.com, we're building a clearinghouse of free knowledge from the world's most inspired thinkers — and a community of curious souls to engage with ideas and each other, both online and at TED and TEDx events around the world, all year long."
Today, we're rounding up the top 5 TED Talks from the first half of 2020 that are centered on the subject of business and leadership.
These powerful, insightful messages are filled with incredible lessons that we can all apply to our personal and professional lives as we seek to continually better ourselves. Click on the title of each talk to be taken directly to its video.
 Current view count: over 1.6 million
"Branding is the profound manifestation of the human spirit," says designer and podcaster Debbie Millman. In a historical odyssey that she illustrated herself, Millman traces the evolution of branding, from cave paintings to flags to beer labels and beyond.
She explores the power of symbols to unite people, beginning with prehistoric communities who used them to represent beliefs and identify affiliations to modern companies that adopt logos and trademarks to market their products — and explains how branding reflects the state of humanity.
Current view count: over 1.4 million
The growth of online marketplaces like Uber, Airbnb and Amazon can sometimes threaten local businesses such as taxis, hotels and retail shops by taking away jobs or reducing income to the community. But it doesn't have to be this way, says strategy consultant Amane Dannouni.
Pointing to examples like Gojek (Indonesia's Uber for motorbikes) and Jumia (Africa's version of Amazon), he explains how some online marketplaces make deliberate trade-offs to include, rather than replace, existing players in local economies — benefiting everyone in the long run.
Current view count: over 1.3 million
Equity expert Sara Sanford offers a certified playbook that helps companies go beyond good intentions, using a data-driven standard to actively counter unconscious bias and foster gender equity — by changing how workplaces operate, not just how people think.
Current view count: over 1.1 million
Business management in China is changing, says consultant Fang Ruan.
Learn how Chinese entrepreneurs — long guided by Confucianism's emphasis on authority and regulation — are now looking to Taoist philosophy for a new, dynamic leadership style that believes things spontaneously transform and naturally achieve perfection when they're supported, not controlled.
Current view count: over 1 million
By some estimates, work-related stress drains the US economy of nearly 300 billion dollars a year — and it can hurt your productivity and personal health too, says wellness advocate Rob Cooke.
He shares some strategies to help put your mental, physical and emotional well-being back at the forefront.
Looking for further online opportunities for professional development and ways to sharpen your leadership skills? Take a look at the

Shaping Change Inner Circle

 — a unique online mastermind for professionals who are ready to excel in their positions of leadership and create one success after another!