In our last blog, we provided some unique, game-changing tips to help you and your team be more productive in the workplace. Better productivity is something all high achievers aspire to. When we're more productive, we tend to feel more fulfilled—and, of course, we get more work done and therefore position ourselves closer to our goals.
If you're aiming on acquiring the knowledge and tools necessary to be more productive this year and want to help your team do the same, here is a list of some of the best books on the market right now all about transforming your daily habits to achieve more and realize your potential. Click on the cover images to be taken to the book's Amazon page: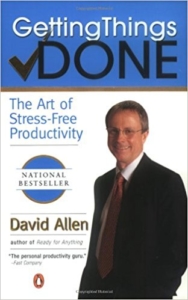 Getting Things Done: The Art of Stress-Free Productivity
by David Allen
"In today's world, yesterday's methods just don't work. In Getting Things Done, veteran coach and management consultant David Allen shares the breakthrough methods for stress-free performance that he has introduced to tens of thousands of people across the country. Allen's premise is simple: our productivity is directly proportional to our ability to relax. Only when our minds are clear and our thoughts are organized can we achieve effective productivity and unleash our creative potential. From core principles to proven tricks, Getting Things Done can transform the way you work, showing you how to pick up the pace without wearing yourself down."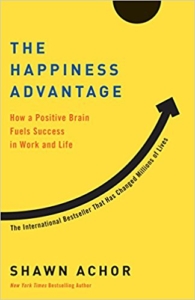 The Happiness Advantage: How a Positive Brain Fuels Success in Work and Life
by Shawn Achor
"When we are positive, our brains become more engaged, creative, motivated, energetic, resilient, and productive at work. This isn't just an empty mantra. This discovery has been repeatedly borne out by rigorous research in psychology and neuroscience, management studies, and the bottom lines of organizations around the globe. In The Happiness Advantage, Shawn Achor, who spent over a decade living, researching, and lecturing at Harvard University, draws on his own research—including one of the largest studies of happiness and potential at Harvard and others at companies like UBS and KPMG—to fix this broken formula. Using stories and case studies from his work with thousands of Fortune 500 executives in 42 countries, Achor explains how we can reprogram our brains to become more positive in order to gain a competitive edge at work. Isolating seven practical, actionable principles that have been tried and tested everywhere from classrooms to boardrooms, stretching from Argentina to Zimbabwe, he shows us how we can capitalize on the Happiness Advantage to improve our performance and maximize our potential."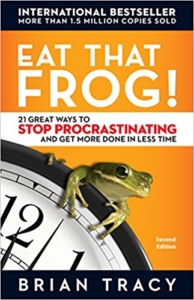 Eat That Frog!: 21 Great Ways to Stop Procrastinating and Get More Done in Less Time
by Brian Tracy
"The legendary Eat That Frog! (more than 1.5 million copies sold worldwide and translated into 42 languages) will change your life. There just isn't enough time for everything on our "To Do" list—and there never will be. Successful people don't try to do everything. They learn to focus on the most important tasks and make sure they get done. There's an old saying that if the first thing you do each morning is to eat a live frog, you'll have the satisfaction of knowing that it's probably the worst thing you'll do all day. Using "eat that frog" as a metaphor for tackling the most challenging task of your day, Eat That Frog! shows you how to zero in on these critical tasks and organize your day. You'll not only get more done faster, but get the right things done. Bestselling author Brian Tracy cuts to the core of what is vital to effective time management: decision, discipline, and determination. In this fully revised and updated second edition, he provides brand new information on how to keep technology from dominating your time. He details twenty-one practical and doable steps that will help you stop procrastinating and get more of the important tasks done—today!"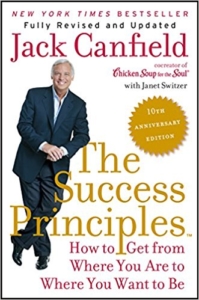 The Success Principles: How to Get from Where You Are to Where You Want to Be
by Jack Canfield
"In The Success Principles, the co-creator of the phenomenal bestselling Chicken Soup for the Soul series helps you get from where you are to where you want to be, teaching you how to increase your confidence, tackle daily challenges, live with passion and purpose, and realize all your ambitions. Filled with memorable and inspiring stories of CEO's, world-class athletes, celebrities, and everyday people, it spells out the 64 timeless principles used by successful men and women throughout history—proven principles and strategies that can be adapted for your own life, whether you want to be the best salesperson in your company, become a leading architect, score top grades in school, lose weight, buy your dream home, make millions, or just get back in the job market. Taken together and practiced every day, these principles will change your life beyond your wildest dreams."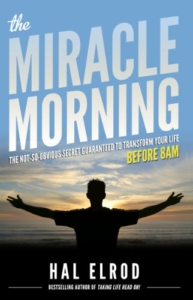 The Miracle Morning: The Not-So-Obvious Secret Guaranteed to Transform Your Life (Before 8AM)
by Hal Elrod
"What if you could wake up tomorrow and any—or EVERY—area of your life was beginning to transform? What would you change? The Miracle Morning is already transforming the lives of tens of thousands of people around the world by showing them how to wake up each day with more ENERGY, MOTIVATION, and FOCUS to take your life to the next level."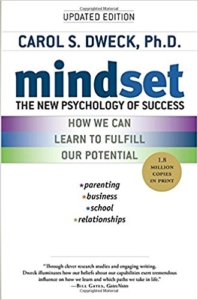 Mindset: The New Psychology of Success
by Carol S. Dweck
"After decades of research, world-renowned Stanford University psychologist Carol S. Dweck, Ph.D., discovered a simple but groundbreaking idea: the power of mindset. In this brilliant book, she shows how success in school, work, sports, the arts, and almost every area of human endeavor can be dramatically influenced by how we think about our talents and abilities. People with a fixed mindset—those who believe that abilities are fixed—are less likely to flourish than those with a growth mindset—those who believe that abilities can be developed. Mindset reveals how great parents, teachers, managers, and athletes can put this idea to use to foster outstanding accomplishment."
Have you read any of the above titles? Are there any in particular that especially interest you? Be sure to add these books to your to-read list and then set aside time every day to pore over their insights and lessons. You'll gradually become your most productive self ever!