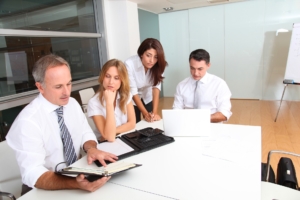 Most people imagine a natural hierarchy of knowledge in the workplace. It seems to be that the people with the most expertise manage those who are still learning.
In the real world, however, it doesn't always happen that way. If you've found yourself in charge of someone who seems to be a jack of all trades, it can be a tricky situation to navigate. You might want to change the way you handle that employee – you'll both be better for it.
Move Them Up
It's one thing to deal with an employee who is simply incredible at his or her job – it's another thing to deal with an employee who is trapped in that job. If the employee in question is vastly overqualified for the position that they're filling, move them up. You're wasting their potential by holding them back. A great leader can recognize the potential in an employee and understand exactly where that potential would be best applied, even if it's in a completely different position. It might be time to put your employee higher up on the career ladder.
Educate Them
You can't always move employees up or around when you feel as though they've outgrown their current posts. Openings in higher level positions need to become available, and if you don't have one yet, providing your employee with education is one of the best ways to show that employee that you value their contributions and understand the circumstances. Expert employees will feel a lot less listless if they're learning new things. They're growing, and their growth will help your company.
Value Their Feedback
An employee with more expertise may offer a lot of suggestions or alternatives. While someone in a position of authority might feel as though this employee is talking out of turn, that may not be the best viewpoint to take. This employee's ideas have the potential to innovate the way you do business. Hear this employee out, and be willing to implement great feedback. You never know how much farther you can go when you allow this employee to use their expertise to the max.
Be Respectful and Open in Conversation
When a team member understands the project better than a leader, this sometimes makes for awkward conversations. Rather than having them in front of the entire team, take your expert employee aside. Sit down together to have conversations about ways to proceed with a project. You can both learn a little bit from each other in the right comfortable space. This keeps the environment from feeling less competitive and more collaborative.
Separate Confidence and Authority
Don't feel inadequate when you're managing an employee who knows more about something than you do. Most of the time, companies separate people based on skill levels and management ability. There's a reason why you're both in the best possible positions for you. You can confidently manage an expert employee without taking their skillset personally. Coming down too hard to prove a point will only serve to make the situation more difficult. Giving up on the situation will harm your career. Value the employee in question, and the employee will value you equally.
Learning to manage an employee with more expertise can be a little bit of a learning process. You may need to try a few approaches before you find the one that will work best for you. As long as you openly acknowledge the situation and set your feelings aside, you'll find that you're halfway to a solution. A few compromises will go a long way in making everyone happy and productive at work.
—
Melanie Saunders is a content manager and a green living enthusiast, currently supporting 1300 Rubbish. With her love for writing, Melanie often shares her ideas about growing and expanding a business, be it through effective marketing, great leadership or smart customer engagement. Follow her at @MelaniesSauners.