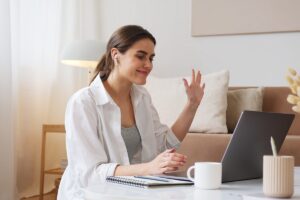 Having a remote team has plenty of upsides.
If you play your cards right, you will save on overheads, speed up your product delivery, and enjoy insights from team members with unique perspectives.
Not needing to pay for or come into the office has advantages for management and ordinary employees alike.
But if you are going to build a remote team successfully, it takes smart planning and continued evaluation of your daily execution to ensure you're on the right track.
Below are 7 ways to make sure your remote team turns out to be a great and profitable success:
Have Clear Outcomes
Understanding the core purpose of your remote team is vital. Do you want to hire top talent by offering the flexibility of remote work? Are you looking to save on costs by not needing standard office equipment? These are the questions you need to answer first and foremost.
From here, understand what kind of market you are going to serve and what kind of profit margins you can expect. Have reasonable goals to avoid the mistakes that come with trying to grow too fast.
With clear goals and hard deadlines, you will be more focused on your outcomes. That way, obstacles along the way will be much easier to overcome. Of course, this is only the start.
Delegate Effectively
As the manager of a remote team, you will need to delegate skillfully. The last thing you want is to be the bottleneck for all of your team's decisions.
When a customer service agent needs to help a customer with a particular issue, do they need to email you first for approval? What if it is a small fix that costs $20 to make a customer happy, but gives you loyal repeat business for life? These are the tradeoffs you have to consider.
Set clear guidelines for employee behavior and responsibility. Make sure to avoid micromanaging. After all, you are hiring a team to competently carry out their roles without needing your input on every little thing.
Utilize Collaboration Tools
Keeping your employees engaged can be a challenge. It is much easier when you are in a physical office. You can simply physically check in on them.
One of the challenges of having team members from all around the globe is that there can be lags in collaboration. Everything needs to be digital. Luckily, there are plenty of tools to help you out.
Consider collaboration tools like the following to improve the workflow of your remote team members:
Slack Chat
Slack is a popular and powerful chat app. Your employees don't even need to download it to their device because it is cloud-based.
With Slack, you can send and share videos, live chats, links, images, and more. This allows your various departments like design, programming, or marketing to collaborate without issues or interruptions.
Dropbox
Do you have large files that will need to be shared, such as video or product renderings? Dropbox is the perfect solution, allowing you to store massive amounts of data in the cloud for a small price (and sometimes even for free).
Zoom
A key part of remote collaboration is the ability to see each other through video calls. Zoom is a simple and scalable way to connect your entire team so that you can communicate more effectively instead of just relying on voice or text.
There are many collaboration tools available, and their importance is increasing every day.
Have Regular Communication
When setting out to build a remote team, keep in mind that your ability to establish regular communication will make or break your business. It is vital for productivity.
If you simply leave it up to your team to decide when and how they will communicate, they might miss vital checkpoints or even become lazy. As the leader, you need to set clear guidelines for your expectations. How often will you communicate, and when will meetings be held? Choose a rhythm and stick to it for consistency.
Master Time Management
There are only so many hours in the day. When it comes to remote project management, always be the one with the best time management awareness and skills. This way, you can guide everyone else in working around time zone differences and life obligations.
Try to schedule meetings at a time that is as convenient as possible for everyone. There will have to be some compromises, but your team needs to understand that those come with the benefits of being able to work from home or a coffee shop.
If it becomes necessary, start tracking time as well. There are apps that you can download to block certain sites (to avoid procrastination) and to see how often each person is working.
IT Infrastructure and Training
A core component of building and running a remote team is your IT setup. You need to keep in mind the importance of data in this day and age. If one thing goes wrong, you could face plenty of issues.
Your customers' information could get leaked. Or your trade secrets could fall into the wrong hands. Even simply not having your IT working for a few days could be disastrous for your operation.
Unfortunately, IT disasters are very common. You don't have as much control over a remote team. That's why it's essential to have a disaster recovery program in place from the start. You can quickly correct issues and have peace of mind that your information is safe.
Your team needs to be aware of all the potential pitfalls of remote work, as well as command the chosen technology with confidence, so make sure to provide training and keep them up to date.
Wrapping Up
If you are thinking about starting a remote team, you are not alone. Organizations worldwide are realizing the massive advantages that it can bring to your ability to compete in the marketplace.
However, it is much easier said than done. If you are going to grow your remote team from scratch and create a profit in today's cutthroat business world, you need the right approach and the right tools.
The 7 keys above will help you unlock your remote team's potential so you can enjoy a thriving, profitable company sooner rather than later.
—
Lisa Michaels is a freelance writer, editor, and a thriving content marketing consultant from Portland. Being self-employed, she does her best to stay on top of the current trends in business and tech. Feel free to connect with her on Twitter @LisaBMichaels.