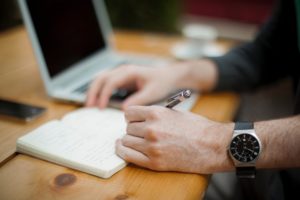 In our last blog, we discussed the benefits of keeping a journal, especially if you're in a position of leadership.
In fact, journaling for as little as 15 minutes a day can potentially improve a person's confidence and self-awareness.
Others report benefits such as better organisation, improved decision making, improved attitude, enhanced intention, and positive reinforcement.
If those sound like benefits you'd like to experience in your day-to-day life as a leader, then read on for tips on how you can begin implementing journaling into your daily routine.
How to keep a journal
These days, there are countless possibilities when it comes to journaling. What's important is finding the format that best fits with your lifestyle and comfort level.
That said, there may be a benefit to writing by hand according to research published in the Association for Psychological Science.
"[The research] demonstrates that students who write out their notes on paper actually learn more.  Across three experiments, [Pam] Mueller and [Daniel] Oppenheimer had students take notes in a classroom setting and then tested students on their memory for factual detail, their conceptual understanding of the material, and their ability to synthesise and generalise the information. Half of the students were instructed to take notes with a laptop, and the other half were instructed to write the notes out by hand…Those who wrote out their notes by hand had a stronger conceptual understanding and were more successful in applying and integrating the material than those who took notes with their laptops." –From Scientific American
If possible, writing by hand may help you learn and retain information more effectively, no doubt aiding you in uncovering powerful breakthroughs as you journal.
However, if writing by hand isn't feasible, or if you simply prefer the speed of typing, you can also journal digitally.
Keeping a journal within a Word document or within Google Drive documents, for instance, are a great alternative. And for those needing to fit journaling into an already busy schedule, consider a journaling app for your phone.
Many of these apps have easy-to-use interfaces that make entering a journal entry quick and effortless. You can also set reminders to keep you on track with your journaling goals, export your entries, and sync your journals across numerous devices.
When to journal
"If you're serious about becoming a wealthy, powerful, sophisticated, healthy, influential, cultured, and unique individual, keep a journal." -Jim Rohn, business author
Ideally, leaders should journal daily. While this will take dedication and commitment, the payoffs are worthwhile. Journaling affords you with unparalleled clarity, provides a forum inside which you can work through emotions that may be affecting your performance and behaviour, jumpstarts your creativity and helps ideas crystallise, and as we've discussed above, it can also help reinforce your learning.
Given all those benefits, leaders should journal as often as possible. Again, a daily routine is ideal, as you'll be able to quickly build upon lesson after lesson in your growth process.
As for the time of day that's best for journaling, you must decide what works best for your schedule. Many individuals love waking up early and journaling while the rest of the household is asleep. During the night, their subconscious has been problem-solving and developing new ideas, and those who journal in the early morning hours enjoy engaging with that creative flow.
However, there are benefits to journaling in the evenings as well. Many regard their sacred journaling time as an opportunity to finally close off on the day and release the lessons, emotions, and weights that came with it. This can help with stress-reduction and relaxing the body as you prepare for sleep.
What to journal
When first starting off, many people will use their journal to record the minutiae of the day. There's nothing wrong with this, of course. In fact, exploring your day's high points and low points can be immensely beneficial.
Especially if you use a particular sentence coined by New York Times Bestselling Author, T. Harv Eker: "How did I create this situation?" It's a powerful question that can help you correct behaviour to see better results, or capitalise on certain behaviours for repeated success.
Other powerful questions you may want to consider exploring in your journal include those below. Pick one or two that resonate with you and start there. Over time, you may wish to add more questions as you strengthen your self-awareness muscles.
What went well today? What created that?
What was challenging today? What created that?
How can I improve? How can I improve my team?
Is my team functioning at optimal levels? If not, what's not working? If so, how can I up-level them even further?
What do I need to adjust to create the impact I want to see?
What distractions minimised my effectiveness today? How can I lessen their impact?
What lessons did I learn today?
What are three things I'm grateful for today?
What activities today made me feel energised/stronger?
What activities today drained me?
When did I feel the most successful today?
What beliefs or assumptions are holding me back right now?
What do I need to let go of to move forward in my leadership, work, and life?
If you're a leader and you don't have a regular journaling practice in place just yet, I encourage you to begin introducing the habit into your daily routine. Again, you can see vast improvements even when journaling for as little as 15 minutes a day. And if you want more productive and effective days, journaling can be the very thing to help you achieve that.