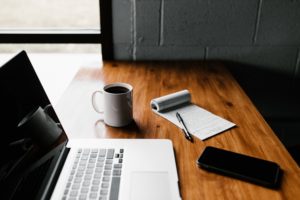 Current events in our world have completely transformed the norm when it comes to the way we work.
The majority of office workers, for instance, are now relegated to home offices.
For those who aren't used to this way of working (referred to as remote work), it can be challenging to stay focused on your daily tasks and maintain a good sense of productivity.
Today, we're sharing 4 tips that the most effective leaders and managers use daily to optimize their work days and be their most productive selves.
1. Plan your workday in advance
Planning your workday in advance is a great way to get clear on your goals for the day, which will allow for enhanced focus during your working hours.
This planning process may take place first thing in the morning, or it may even happen the evening before. Regardless of when it occurs, this planning period is key to helping you create a productive day.
While you plan, you want to ask yourself: What needs to be accomplished today for me to view this day as a success? The answer to this question will inform your expectations for the day and give you focused goals to work toward.
This planning period also affords you the opportunity to map out the entire workday. Many highly effective workers will block out their calendars in 15-minute chunks to ensure that everything they hope to get done is accounted for.
2. Incorporate templates into your daily tasks
Are you repeatedly creating the same kinds of documents or emails regularly? To reduce the amount of time you're spending on these tasks, call upon the help of a template instead.
A template is a "fill-in-the-blank" type document, and they're great for projects that are created the same way every time. You can use templates for just about anything: presentations, spreadsheets, emails, etc.
For instance, if you used the same canned response for certain incoming emails, you can save yourself a great deal of time by simply copying and pasting a script from an already existing template – instead of having to type out the response over and over again each time.
A simple Google search for "templates" will generate a plethora of results for all kinds of documents. Many of these templates will be free to download. Alternatively, you can use them as inspiration for creating your own. Either way, you'll shave off a great deal of prep time by having ready-made templates at your disposal.
3. Install browser extensions for productivity
It's been said that the average adult spends six hours a day online. For those who work in front of a computer for the majority of their workday, it may very well be more. This can harm productivity, considering two thirds of employees admit to doing non-work-related activities online at some point during the day. The biggest culprits for this? Social media.
But there are extensions available that can help you curb your social media appetite when you're trying to be productive. The Google Chrome extension StayFocusd allows you to quarantine websites of your choice where you know you waste time. You can even set a pre-allotted limit for how long you spend on those website each day. After that, Stay Focusd shuts you out.
Another option is Work Mode. When it's crunch time, you can activate the icon right from you browser, and it will automatically block all social media as well as any other websites that have been added to its system. It's a great way to help you maintain a one-track mind while on the clock.
4. Designate times for phone/email correspondence
Social media isn't the only time-waster in the workplace. One of the biggest sources of lost hours come from our own email inboxes. Did you know that, according to a study conducted by the Department of Computer Science at the University of Illinois in partnerships with Microsoft Research, it takes fifteen minutes to get your focus back after responding to an incoming email?
How frequently do you actually need to be checking your email? Obviously, if you work in a fast-paced environment with constant deadlines and interaction with clients, your email inbox might see more use. However, if your workplace is more project-based and not so much customer-facing, you might be able to get away with checking your email only 1-3 times a day.
Choose specific times each day when you'll check your email. For example, you might choose a thirty-minute block of time before lunch, and then another thirty-minute block at the end of your work day. The idea is to only check/send/reply to emails during these blocks of time. That way, you're not constantly checking your inbox or drowning in messages. As for phone calls, you can use the same strategy. Pick a time during the day when all your important phone calls will take place. Then, outside of that block of time, turn off your phone notifications (if doing so is possible in your line of work) so that you aren't distracted from your tasks.
Working from home is a new landscape for many people around the world, and it can be challenging to stay focused and be productive when you're not in a traditional office setting.
However, using the strategies above, you can gain greater clarity around your goals for the day and eliminate any distractions that are limiting your productivity, thus allowing you to become a more effective and productive worker.