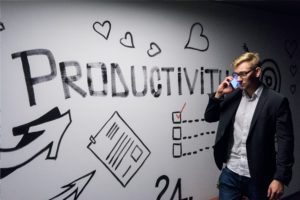 Change is a normal part of life, and the global pandemic we currently face has changed many things about the way we live, from how we connect with others to how we maintain forward-motion in the workplace.
When so much of today's labor force is now relegated to home offices and working remotely, it's more important than ever for leaders to rise up and help their team members navigate these unprecedented challenges with ease.
Today, we're discussing 3 strategies for leading effectively in times of change in order to help employees feel supported and connected.
Emotions are natural
As human beings, we naturally feel emotions, and this is no more evident than in times of great change. What's important to keep in mind is that this is normal and even expected.
It's natural for people to grieve as they let go of the old and learn to embrace the new. So many of us have needed to part ways with the familiar as we adapt to new circumstances: working from home (in many cases with children now present due to school closures), managing new schedules, learning new technologies in order to stay connected with colleagues, etc.
There are those who may also feel lost during this transition and may need to lean on leadership for stability and support. As such, it's essential that leaders are prepared to help their team members deal with strong emotions.
Suppressing emotions won't help your employees. Nor will wallowing in them. Instead, go to the emotion. Ask your team members how they're feeling. "How is this change impacting you?" Then guide them in going through the emotion. Help them to label it and understand its causes so that they can effectively process it and move forward.
Communication is key
Effective communication is always essential in the workplace.
But that's especially the case during times of great change.
And it's particularly a key component when so many workers have been relegated to working remotely from their home offices.
Fortunately, in today's digital age, there are more ways than ever for teams to stay connected with each other no matter the distance between them. Applications like Zoom and Slack have skyrocketed in popularity this year, offering platforms through which teams can hold video meetings and chat with each other in real time.
Other applications such as Asana and Monday can help keep teams organized and on-target with projects, ensuring there are no delays in your department's forward-motion.
Beyond that, during times of change, employees need to hear from leadership more than ever. It's an ideal time to ramp up company communications to keep your team informed and in-the-know. The constant communication will help your employees feel secure and supported in their positions and will also show that your company cares for their needs – a great way to further establish company loyalty.
Self-care is a priority
Leading through change can be challenging, which is why it's important to strengthen your resilience muscles as a leader.
Making self-care a priority is essential in achieving this. Make it a point to set aside time each day to exercise, meditate, journal, reflect, read, etc. Think of the activities that support you mentally, emotionally, and physically and help energize and fulfill you. Whatever they are, put them on your calendar and engage in them regularly.
It's also important to seek support from other leaders—whether through conversations with colleagues from work or through online masterminds you might be a part of, such as the Inner Circle here at Shaping Change.
When you have access to a community of like-minded individuals, you're able to share concerns, challenges, and ideas for becoming a more effective leader, which can easily shorten your learning curve and accelerate your growth. It can also be therapeutic to unload your stress in a supportive environment and find ways of dealing with burn-out before it becomes a problem.
Remember, you're no use to your team if you're burned out. The last thing you want to do is vent to your employees. In uncertain times, what your team most needs is leadership, particularly a leader who's modeling good coping strategies and who is a wellspring of support and encouragement during seasons of change.
How you deal with change has a big impact on your leadership legacy.
How will your team remember your words and actions when they look back on this season of change? What do you want your employees to say about the way you led?
Use the 3 strategies above to lead effectively in times of change, and you'll be able to give your team members the support they need to thrive in the workplace.