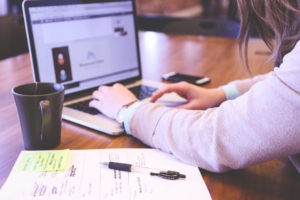 Having employees work from home means that you can have a business that is both flexible and cost-effective. If you have a business that requires maintenance customer service, technical support, administrative work, translation, research, writing, editing, or web design, you can certainly employ people who work in the comforts of their home.
These kinds of jobs don't require a very constant face to face communication with the managers and colleagues. Nonetheless, some management is still necessary to ensure a smooth flow of work. In this article, we'll share with you some of the ways that you can manage your employees who work from home.
Prepare a Contract
A contract allows you to set the expectations that you have with your employee. It will discuss the requirements of the job and the roles that the employee needs to fulfill while working with you. It will also cover the details regarding the salary and the terms of payment.
You can also discuss sanctions or consequences of failing to do the job or producing unsatisfactory work. Most of the questions your employee has can be answered with the contract that you will provide. To be sure, you can consult with a lawyer about this and request for a contract to be drafted.
Provide Training
You cannot assume that even if the employees have the capacity to work independently and with little supervision, they can read your mind as well. You have to let them know and make them understand how and when you want to get the job done and what your expectations are.
You may be using certain software for your business that the employees are not yet familiar with. You have to train them on how to use it. This ensures that they won't be wasting time learning about these things on their own or just being plain confused about what to do.
Introduce Your Work Procedures
When you are all set with the training, also include the work procedures that you want them to follow. This will make sure that your business runs smoothly. If you have a team of writers, make them understand the workflow such as how to submit their work to the editors, work with revisions, etc. Each employer or entrepreneur has a unique set of work procedures. Businesses have a system that works effectively for them. Again, you cannot assume that they will immediately know and understand your system.
Communicate Regularly
Your employees have the convenience to make money at home by working with you. You give them enough space and freedom, unlike working in an office which can be stifling and draining. But even if you may be half a world apart with your employees, you have to exert the effort to communicate with them regularly. It can be through e-mail, Skype, and other apps that you can use for free.
Communicating with them regularly assures them that you are present and that you are on top of things when it comes to your business. This is also a way to remind them that you are still supervising them and that they shouldn't slack off. Hopefully, you find hardworking employees who will provide you will excellent work even if you may not be physically present.
Assess the Performance of Your Employees
Since you cannot see how they work, you can only assess them through their finished product. Make sure to provide feedback every time they finish a project. Your feedback will give them the opportunity to improve and produce better work in the future.
This goes back to the previous tip. You have to be able to communicate well with your employees when it comes to your expectations, deadlines, and other important matters. Be as detailed as possible about what you want to see in the finished product. You shouldn't leave them guessing but unless you gave them the creative freedom to do the work, then that's fine. In any case, be specific with your instructions. This will help them a great deal in giving you superb work.
Takeaway
Running a business with employees who work from home has many similarities with running an office. One key similarity is that it requires a strong and capable leadership. You have to be a good leader and an excellent example to your employees so that they will follow your lead.
Are you planning to get home-based employees? What do you think are the other steps to be able to manage your remote workforce? Let us know in the comments below!
—
Marlouzel Mabunga is the Founder & Editor in Chief of PunchTheKeys.com where she shares valuable resources about how to make it as a freelancer. She is a firm believer that every writer has the capacity to improve and succeed.