What if the person who's written the most practical and best-selling book on coaching for managers and leaders turned their attention to the health of working relationships? Michael Bungay Stanier's new book *How to Work with (Almost) Anyone* is a practical guide for anyone who wants to stop hoping that their working relationships will be good and wants to start doing something about it. If you work with other human beings, then this book will help. Grab a copy today!
I had the privilege of an interview with Michael. Join me as we unpack the words of wisdom that will help you develop better relationships at work and in life.
Some of the key models to listen for are:
The Keystone Conversation
The 5 Questions – The Amplify question, the Steady question, the Good Date question, the Bad Date question, and the Repair question.
The TERA model – Tribe, Expectation, Rank, Autonomy
The 6 Principles of Maintenance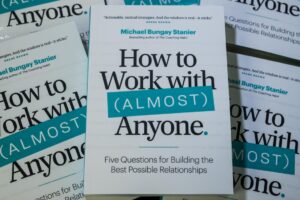 Michael Bungay Stanier – Biography
Michael Bungay Stanier helps people know they're awesome and they're doing great.
He's best known for his book The Coaching Habit which is the best selling book on coaching this century and is considered a classic.
His most recent book is How to Work with (Almost) Anyone and it shows how to build the Best Possible Relationship with the key people at work.
He founded Box of Crayons, a learning and development company that has trained hundreds of thousands of managers to be more coach-like in organizations from Microsoft to Gucci.
He left Australia about 30 years ago to be a Rhodes Scholar at Oxford University … where his only significant achievement was falling in love with a Canadian … and which is why he now lives in Toronto, having spent time in London and Boston.